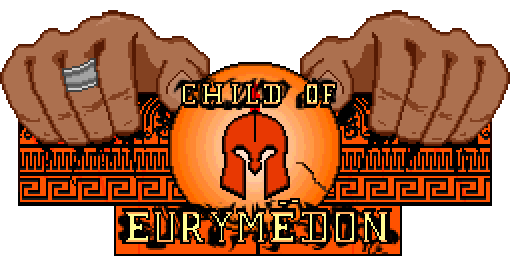 Child of Eurymedon
A game created for the Greek MytholoJam.
The main inspiration is the legend of Eurymedon, child of Gaia and Ouranos, king of the powerful giants.
After a fierce battle, Eurymedon is now imprisonned by zeus in the tartare. This is when our story begins...
The city has put to use all its ingenuity to equip the troops with anti-giants weaponry. Aided by the gods, prepare the defenses of the city against the sons of Eurymedon before it is too late!
Are you ready to battle against Eurytus, Hippolytus, Leon, Pelorus, Euryalus, Agrius and Hopladamus ?

Remember that you are fated, never go back ! AOUHHHHHH
Controls :
Use left and right to move the view in combat, use the mouse to select your action. Clic on the instrument on the bottom right to toggle sound on/off, or press M.

How to play ?

you start with a preparation phase. You have all the time you want to choose units by clicking on the icons and placing them in the city
spend all your glory points ! the amount will be reset on next level
try to think of good ways to combine units
when you are ready, clic "wrestle!" and the giant will attack
you can do some actions with units (moving for foot units, shooting for siege units)
use spells to help your sodliers ! clic on the spell on the right, then clic where you want to use it
A game by ROBOWARRIOR and joqlepecheur

Download